GRAFTON, MA FLORIST
Our Location
Address: 284 Grafton St
Worcester, MA 01604
Phone: (508) 755-7744
GRAFTON, MA ZIP CODES SERVED
01519, 01534, 01536 01545, 01560
Perro's Flowers, Grafton, MA Featured Product for Spring 2022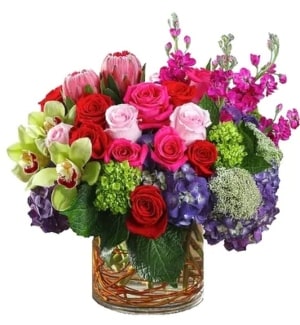 Luxe Euphoria from Perro's Flowers
Grafton, MA florist Perros Flowers is the best florist in Grafton, MA and in North Grafton. We can send flowers to your doorstep and flower delivery is not an issue in Grafton Massachusetts. Our flower shop is the best local florist and delivery to your area. Flower delivery in Grafton MA on Mother's day or same day delivery, we are just one call away. Grafton is a semi-rural town in east central Massachusetts lying southeast of the City of Worcester. Grafton was originally occupied by a tribe of Nipmuc Indians and was called Hassanamisco (place of small stones).
In 1671, an English missionary named John Eliot, who preached in Hassanamisco, established an Indian church and school here where the Bible was studied in the Indian language. The church and school were located near the current common. Today there is an Indian homestead on Brigham Hill.
With a population of nearly 20,000 people, Grafton, MA in Worcester County and is constantly rated as one of the best places to live in Massachusetts. Grafton offers residents and visitors a sparse suburban feel and most residents own their homes. Many families and young professionals live in Grafton and enjoy its many parks and highly-rated public schools in Grafton.
HOSPITALS, NURSING HOMES & CARE CENTERS
---
Crescent Manor Rest Home, Inc, 5 Crescent Street, Grafton, MA 01519
Minuteclinic, 100 Worcester Street, Grafton, MA 01536
FUNERAL HOMES IN GRAFTON, MA
---
Roney Funeral Home, 152 Worcester St, North Grafton, MA 01536
LOCAL PLACES OF WORSHIP IN GRAFTON, MA
---
Grafton Evangelical Congregational Ucc, 30 Grafton Cmn Grafton MA
The Baptist Church of Grafton, 1 South St Grafton MA
St Phillip Parish, 12 West St Grafton MA