MILLBURY, MA FLORIST
Our Location
Address: 284 Grafton St
Worcester, MA 01604
Phone: (508) 755-7744
MILLBURY, MA ZIP CODES SERVED
01527, 01586, 01607
Perro's Flowers, Millbury, MA Featured Product for Spring 2022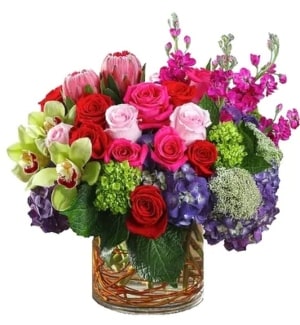 Luxe Euphoria from Perro's Flowers
Millbury, MA florist Perro's Flowers. We are one of the best florist with lovely flower arrangements which the flowers always fresh, just send a text for your orders. The floral boutique is the #1 full-service local florist in Millbury, MA and features same-day delivery and we are able to hand delivered to the City of Millbury, along with Worcester County, St Auburn MA 01501, Southbridge St and surrounding areas in New England. One of the best Millbury Towne florist and flower shop, we will take care of your your gift and your recipient will be happy. Millbury is a town located in the heart of Massachusetts and is the northernmost town in the Blackstone River Valley where you can find a local florist specialize in floral arrangements or flowers in a box. Whether by car, air or train, access to Millbury is easy. It is located at the intersection of Route 146 and I-90 (the Mass Pike) on the south edge of Worcester.
Historically rich in mill village history, the Town evolved around the resources of the Blackstone River. In recent years, the Town has worked with other communities and with the Blackstone River National Heritage Corridor to improve the water quality and public enjoyment of the River. The Blackstone River Bikeway, links Millbury with Worcester to the north, and will link to Pawtucket, RI to the south.
The largest economic development project in the Town's history was completed in 2004. The Shoppes at Blackstone Valley provide more than 750,000 square feet of shopping and dining experiences. The complex also includes the 14-screen Blackstone Valley 14 Cinema De Lux movie theatre.
HOSPITALS, NURSING HOMES & CARE CENTERS
---
Care One At Millbury, 312 Millbury Avenue, Millbury, MA 01527
FUNERAL HOMES IN MILLBURY, MA
---
Mulhane Home For Funerals, 45 N Main St, Millbury, MA 01527
Turgeon Funeral Homes, 56 N Main St, Millbury, MA 01527
LOCAL PLACES OF WORSHIP IN MILLBURY, MA
---
Chapel At The Mill, 28 Juniper Dr Millbury MA
Millbury Federated Church, 20 Main St Millbury MA
Millbury First Congregational Ucc, 148 W Main St Millbury MA
New Arising Christian Church, 138 Worcester Providence Tpke Millbury MA
Hope Reformed Church, 50 Howe Avenue, Building G Millbury MA
Assumption Parish, 12 Waters St Millbury MA
Our Lady of the Assumption, 12 Waters St Millbury MA
St Brigid Parish, 59 Main St Millbury MA
Hosanna Christian Fellowship, 126 Elm St Millbury MA
Hosanna Christian Fellowship Church, 313 W Main St Millbury MA
Millbury Raymond Memorial Ucc, 5 Raymond St Millbury MA