SHREWSBURY, MA FLORIST
Our Location
Address: 284 Grafton St
Worcester, MA 01604
Phone: (508) 755-7744
SHREWSBURY, MA ZIP CODES SERVED
01545, 01546, 01604
Perro's Flowers, Shrewsbury, MA Featured Product for Spring 2022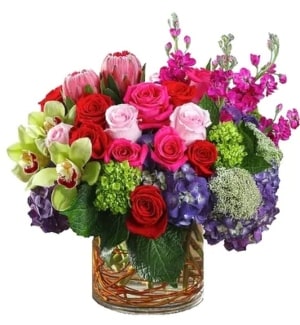 Luxe Euphoria from Perro's Flowers
Shrewsbury, MA florist Perros Flowers is the best florist in Shrewsbury, MA and we offer flower delivery or same day delivery. We can send flowers to your loved ones and delivered to Shrewsbury, MA. Neighboring the City of Worcester with its growing medical and biotechnical fields, Shrewsbury is a proud New England town located in Central Massachusetts adjacent to Worcester, the second largest city in New England.
Historically a summer resort destination located on the beautiful Lake Quinsigamond, the Town of Shrewsbury has a long history of providing recreational opportunities to both residents and visitors alike.
With over thirty parks and recreational spaces, and a myriad of businesses and restaurants in the Town Center District and Lakeway Business District, there is no shortage of activities for residents and visitors to enjoy.
Notable Buildings & Landmarks in Shrewsbury, MA
Broken Creek Vineyard and Winery, General Artemas Ward Museum, SkiWard, Hebert Candies, Dean Park, Prospect Park
HOSPITALS, NURSING HOMES & CARE CENTERS
---
All Nurses Inc, 36 Eastern Point Drive, Shrewsbury MA 01545
Brookdale Home Health Boston, 512 Main Street Ste 211, Shrewsbury MA 01545
Care With Care Home Health Care Llc, 560 Boston Turnpike Suite 02, Shrewsbury MA 01545
Shrewsbury Nursing & Rehabilitation Center, 40 Julio Drive, Shrewsbury MA 01545
Shrewsbury Radiology, 26 Julio Drive Ste 104, Shrewsbury MA 01545
Umass Mem Sat Molecular Diagnos Lab, 222 Maple Street, Shrewsbury MA 01545
University Dialysis Center, 239-243 Boston Turnpike Rd, Shrewsbury MA 01545
FUNERAL HOMES IN SHREWSBURY, MA
---
Britton-Shrewsbury Funeral Home, 648 Main St, Shrewsbury, MA 01545
Chiampa Funeral Home, 5 Church Rd, Shrewsbury, MA 01545
Roney Funeral Home, 152 Worcester St, North Grafton, MA 01536
LOCAL PLACES OF WORSHIP IN SHREWSBURY, MA
---
Chapel On the Hill
Southern Baptist Convention
First Congregational Church
Liberty Assembly Of God
Assemblies of God
Mount Olivet Lutheran Church
St Mary's Parish
Wellspring United Methodist Church
Trinity Episcopal Church
Grace Baptist Church
Saint Mary Assyrian Orthodox Church
Saint Mary's Pastoral Center
Shrewsbury Foursquare Church
St Anne Catholic Church