WORCESTER, MA FLORIST
Our Location
Address: 284 Grafton St
Worcester, MA 01604
Phone: (508) 755-7744
WORCESTER, MA ZIP CODES SERVED
01601, 01602, 01603, 01604, 01605, 01606, 01607, 01608, 01609, 01610, 01613, 01614, 01615, 01653, 01655
Perro's Flowers, Worcester, MA Featured Product for Spring 2022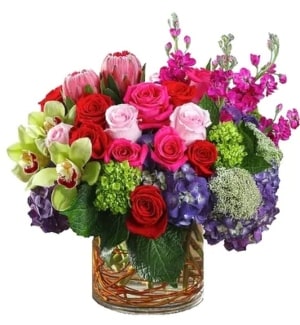 Luxe Euphoria from Perro's Flowers
We are Worcester MA florist - Perros Flowers is the best local florist in Worcester MA offers same day delivery and hand delivered with our wide selection of flowers in Worcester, MA. On a series of seven hills overlooking the Blackstone River, the City of Worcester is located West of Boston in Central Massachusetts.
Otherwise known as "The Heart of The Commonwealth", Worcester is the second largest city in New England followed by Providence. Once a manufacturing center, Worcester has become a hub for higher education and healthcare boasting some of the most highly regarded research universities, biotech and life science companies in the country.
Colleges & Universities
University of Massachusetts Medical School, Worcester State University, Worcester Polytechnic Institute, Assumption College, Clark University, College of the Holy Cross, Becker College, Quinsigamond Community College, Massachusetts College of Pharmacy and Health Sciences.
Notable Buildings and Landmarks
American Antiquarian Society, Bancroft Tower, Blackstone River/Blackstone Canal, City Common, City Hall, Elm Park, Green Hill Park, Mechanics Hall, Salisbury Mansion, Triple deckers, Union Station, Worcester Art Museum, Worcester Memorial Auditorium
Seven Hills
Bancroft Hill, Belmont Hill, Grafton Hill, Green Hill, Pakachoag Hill, Vernon Hill, Indian Hill, Newton Hill, Wigwam Hill
HOSPITALS, NURSING HOMES & CARE CENTERS
---
Academy Health Center, 15 Claremont Street, Worcester, MA 01610
Acclaim Home Health Care, Inc, 120 Stafford Street Suite 206, Worcester, MA 01603
Ace Medical Services, Inc, 90 Madison Street Suite 600, Worcester, MA 01608
Adcare Hospital Of Worcester Inc, 107 Lincoln Street, Worcester, MA 01605
Adcare Hospital Outpt Worcester, 95 Lincoln Street, Worcester, MA 01605
Afc Urgent Care, 117A Stafford Street, Worcester, MA 01603
Arbour Counseling Services, 411 Chandler Street, Worcester, MA 01608
Arcadia Home Care & Staffing, 490 Shrewsbury Street Ste A, Worcester, MA 01604
Aurora Breast Mri Of Central Ma Llc, 67 Belmont Street, Suite 102, Worcester, MA 01605
Bayada Home Health Care Inc, 1 West Boylston St., Ste 201, Worcester, MA 01605
Beaumont At University Campus, 378 Plantation Street, Worcester, MA 01605
Best Choice Agency, 2 Luther Avenue, Worcester, MA 01605
Blaire House Of Worcester, 116 Houghton Street, Worcester, MA 01604
Bridge Counseling Center (The), 4 Mann Street, Worcester, MA 01602
Bright Care Inc, 90 Madison Street #303, Worcester, MA 01608
Bright Care Inc, 90 Madison Street Suite 303, Worcester, MA 01608
Burncoat Plains Rest Home, 572 Burncoat Street, Worcester, MA 01606
Care Plus Healthcare Staffing Inc, 8 Zoar Street, Worcester, MA 01604
Carewell Urgent Care - Greenwood, 348 Greenwood Street, Worcester, MA 01607
Carewell Urgent Care - Lincoln St, 500C Lincoln Street, Worcester, MA 01605
Cedar Street Family Clinic, 340 Main Street Suite 869, Worcester, MA 01608
Century Homecare Llc, 65 Water Street Unit 2, Worcester, MA 01604
Christopher House Of Worcester, 10 Mary Scano Drive, Worcester, MA 01605
Clearway Clinic, 358 Shrewsbury Street, Worcester, MA 01604
Comm Healthlink Youth & Family Srvs, 275 Belmont Street, Worcester, MA 01604
Community Healthlink, 12 Queen Street (Aka Thayer Ha, Worcester, MA 01610
Community Healthlink, 162 Chandler Street, Worcester, MA 01609
Compassionate Homecare, Llc, 51 Union Street Suite 202, Worcester, MA 01608
Cornerstone Healthcare Systems Llc, 65 James Street, Worcester, MA 01603
Counseling & Assessment Clinic Worc, 51 Union Street G02, Worcester, MA 01608
Counseling & Assessment Clinic-Worc, 38 Front Street Fifth Floor, Worcester, MA 01608
Dalton Rest Home, 453 Cambridge Street, Worcester, MA 01610
Dodge Park Rest Home, Inc., 101 Randolph Road, Worcester, MA 01606
Doherty Student Health Center, 299 Highland Avenue, Worcester, MA 01640
Donna Kay Rest Home, 16 Marble Street, Worcester, MA 01603
Edward M Kennedy Comm Hc-Optometry, 631 Lincoln Street, Worcester, MA 01605
Edward M Kennedy Community Hlth Ctr, 19 Tacoma Street, Worcester, MA 01605
Edward Mkchc Burncoat Middle & Seni, 135 Burncoat Street, Worcester, MA 01606
Edward Mkchc North High School, 150 Harrington Way, Worcester, MA 01604
Edward Mkchc Roosevelt Eleme School, 1006 Grafton Street, Worcester, MA 01604
Edward Mkchc Worcester Technical Hi, 1 Skyline Drive, Worcester, MA 01605
Ellsworth Child & Family Couns Ctr, 20 Cedar Street, Worcester, MA 01609
Endoscopy Center (The), 630A Plantation Street, Worcester, MA 01605
Epic Health Services Inc, 67 Millbrook Street, Suite 401, Worcester, MA 01606
Everest Home Health Inc, 340 Main Street, Suite 861, Worcester, MA 01608
Expert Staffing Llc, 120 Stafford Street Suite 202, Worcester, MA 01603
Fairlawn Rehabilitation Hospital, 189 May Street, Worcester, MA 01602
Family Health Center Of Worcester I, 26 Queen St, Grd 1St 2Nd & 3Rd, Worcester, MA 01610
Family Hlth Ctr Of Worcester @ Webs, 645 Park Avenue 1St Fl, Worcester, MA 01603
Favorite Healthcare Staffing, Inc, Picadilly Plaza, 490 Shrewsbur, Worcester, MA 01604
Fcp Worcester Clinic, 29 East Mountain Street, 2Nd F, Worcester, MA 01606
Forsyth Dental Hygiene Cln Worceste, 10 Lincoln Square 3Fl, Worcester, MA 01608
Freedom Center Of Worcester, 1 Innovation Drive, 1St Floor, Worcester, MA 01605
Goddard School Sci & Technol Sbhc, 14 Richards Street, Worcester, MA 01603
Grace Excel Healthcare Services Llc, 340 Main Street, Suite 817, Worcester, MA 01608
Hahnemann Family Hlth Ctr, 197 Lincoln St, Worcester, MA 01605
Helen A Bowditch Health Center, 23 North Ashland St Elm Park C, Worcester, MA 01609
Helping Angels Staffing Agency Inc, 70 James Street, Suite 139A, Worcester, MA 01603
Hermitage Healthcare (The), 383 Mills Street, Worcester, MA 01602
Holy Trinity Eastern Orthodox N & R Center, 300 Barber Avenue, Worcester, MA 01606
Homestead Hall, 10 Homestead Avenue, Worcester, MA 01610
Jewish Healthcare Center, 629 Salisbury Street, Worcester, MA 01609
Jhc Homecare, 629 Salisbury Street, Worcester, MA 01609
Jhc Hospice, 629 Salisbury Street, Worcester, MA 01609
Knollwood Nursing Center, 87 Briarwood Circle, Worcester, MA 01606
L U K Behavioral Hlth Clinic Worc, 40 Southbridge Street 4Fl, Worcester, MA 01608
Lutheran Rehabilitation & Skilled Care Center, 26 Harvard Street, Worcester, MA 01609
Mas Medical Staffing, 338 Plantation Street, Worcester, MA 01604
Maxim Healthcare Services Inc, 40 Millbrook Street, Suite #10, Worcester, MA 01605
Metropolitan Home Care Inc, 18 Hammond Street Suite 102, Worcester, MA 01610
Minuteclinic, 44 West Boylston Street, Worcester, MA 01605
Msg Staffing Inc, 25 Union Street, Second Floor, Worcester, MA 01608
Multicultural Wellness Center, 250 Commercial Street Ste 200,, Worcester, MA 01608
New Beginnings Wellness Center Inc, 1280 Main Street, Worcester, MA 01603
Notre Dame Hospice, 555 Plantation Street, Worcester, MA 01605
Notre Dame Long Term Care Center, 559 Plantation Street, Worcester, MA 01605
Oasis At Dodge Park, 102 Randolph Road, Worcester, MA 01606
Odd Fellows Home Of Massachusetts, 104 Randolph Road, Worcester, MA 01606
Omni Healthcare Staffing Inc, 390 Main Street, Suite 734, Worcester, MA 01608
Omni Home Health Agency, 390 Main Street, Suite 1041, Worcester, MA 01608
Parsons Hill Rehabilitation & Health Care Center, 1350 Main Street, Worcester, MA 01603
Pathways Of Massachusetts, Llc, 255 Park Ave Ste 500 & 8Thl St, Worcester, MA 01609
Pdi - Worcester, 19 Glennie Street Suite A, Worcester, MA 01605
Pernet Family Heatlh Services, 237 Millbury Street, Worcester, MA 01610
Physicians Preferred Homecare Inc, 65 James Street Suite 214, Worcester, MA 01603
Planned Parenthood Leag Ma Cnt Ma C, 470 Pleasant Street, Worcester, MA 01609
Pleasant Acres Rest Home Llc, 107 East Mountain Street, Worcester, MA 01606
Plumley Village Health Services, 116 Belmont Street Suite 11, Worcester, MA 01605
Prestige Health Care Services Inc, 340 Main Street, Suite 977, Worcester, MA 01608
Professional Nurses Health Services Inc, 425 Sunderland Road, Worcester, MA 01604
Professional Nurses Health Services, 425 Sunderland Road, Worcester, MA 01604
Providence Nursing Agency, 652B Park Avenue, Worcester, MA 01603
Prudent Home Health Llc, 340 Main Street, #858, Worcester, MA 01608
Regency Family Health Clinic, One Exchange Place, Third Floo, Worcester, MA 01608
Renaissance Adult Day Health Center, 1040 Southbridge Street, Worcester, MA 01604
Ronald Mcdonald Care Moble, 119 Belmont Street, Worcester, MA 01605
Rose Monahan Hospice Home, 10 Judith Road, Worcester, MA 01608
Royal Spring Valley Center, 81 Chatham Street, Worcester, MA 01609
Royale Care, 330 Sw Cutoff, Suite 102, Worcester, MA 01604
Saint Francis Adult Day Health Program, 101 Plantation Street, Worcester, MA 01604
Sarah Care, 1217 Grafton Street, Worcester, MA 01604
Shields Mri @Umass Mem-Memorial Cmp, 119 Belmont Street, Worcester, MA 01604
Shields Mri At Umass Medical School, 55 Lake Avenue North Level "A", Worcester, MA 01655
South Bay Community Services, 340 Main Street Suite 818, Worcester, MA 01608
South Bay Community Services, 340 Main Street Suite 819, Worcester, MA 01608
South High Hlth Center Satellite, 170 Apricot Street, Worcester, MA 01610
Spectrum Health Systems Inc, 105 Merrick Street, Worcester, MA 01609
Spectrum Health Systems Inc, 585 Lincoln Street, Worcester, MA 01609
St Francis Rehabilitation & Nursing Center, 101 Plantation Street, Worcester, MA 01604
St Mary Health Care Center, 39 Queen Street, Worcester, MA 01610
St Vincent Ambulatory Care Center, 108 Grove Street Suite 101, Worcester, MA 01605
St Vincent Cancer & Wellness Center, One Eaton Place Fls 1, 2, & 3, Worcester, MA 01608
St Vincent Hosp Partial Hosp Progr, 299 Lincoln Street Ste 101, Worcester, MA 01605
St Vincent Hosp Phys Thrpy Grove St, Worcester Fitness Ctr 440 Grov, Worcester, MA 01605
St Vincent Hospital - Esrd, 123 Summer Street, Worcester, MA 01608
St Vincent Hospital Pain Management, 102 Shore Drive # 502, Worcester, MA 01605
St Vincent Hospital Women'S Center, 237 Millbury Street, Worcester, MA 01610
St Vincent Hospital, 123 Summer Street, Worcester, MA 01608
Sullivan Middle School Hlth Ctr Sat, 140 Apricot Street, Worcester, MA 01610
Sunrise Behavioral Health Clinic, 340 Main Street, Suite 302, Worcester, MA 01608
Sunrise Nursing Agency Inc, 14 First Street, Worcester, MA 01602
Surgical Eye Experts Llc, 385 Grove Street, Worcester, MA 01605
T & N Reliable Nursing Care, Llc Ma, 130 Elm Street Suite 300, Worcester, MA 01609
Taphys Health Services Llc, 221 Chandler Street, Suite 201, Worcester, MA 01609
Trinity Hospice, Llc, 545 Southwest Cutoff - Suite #, Worcester, MA 01607
Tufts Dental Fac @ Worcester, 150 Goddard Memorial Dr Ste2 1, Worcester, MA 01610
Umass Memorial Ambulatory Care Cent, 55 Lake Avenue North, Worcester, MA 01655
Umass Memorial Endoscopy Center, 21 Eastern Avenue 2Nd Fl, Worcester, MA 01605
Umass Memorial Mc Ptnt Tx & Rcvry C, 26 Queen Street, Worcester, MA 01610
Umass Memorial Med Center - Memorial Campus, 119 Belmont Street, Worcester, MA 01605
Umass Memorial Med Ctr/Hahnemann, 281 Lincoln Street, Worcester, MA 01605
Umass Memorial Med Ctr/Mem Campus, 119 Belmont Street, Worcester, MA 01605
Umass Memorial Med Ctr/Univ Campus, 55 Lake Avenue North, Worcester, MA 01655
Umass Memorial Mri& Imaging Ctr Llc, 214 Shrewsbury Street, Worcester, MA 01604
Union Home Health Care Services Llc, 340 Main Street, Suite 863, Worcester, MA 01608
University Of Ma Med Ctr-Esrd, 55 Lake Avenue, Worcester, MA 01605
University Of Mass Medical School, 55 Lake Avenue North, Worcester, MA 01655
Vcare Home Care And Hospice, 18 Hammond Street, Worcester, MA 01610
Vna Care Hospice Inc, 120 Thomas Street, Worcester, MA 01608
Vna Care Network Inc, 120 Thomas Street, Worcester, MA 01608
Walden Behavioral Care Worcester, 335 Chandler Street Suites 3,, Worcester, MA 01602
Wells Healthcare Llc, 101 Pleaaant Street, Suite 205, Worcester, MA 01609
West Side House Ltc Facility, 35 Fruit Street, Worcester, MA 01609
Willows At Worcester (The), 101 Barry Road, Worcester, MA 01609
Wingate At Worcester, 59 Acton Street, Worcester, MA 01604
Winter Hill Rest Home, 24 Chester Street, Worcester, MA 01609
Worcester Adult Day Care Center, 81 Lafayette Street, Suite 3 &, Worcester, MA 01608
Worcester Counseling Center, 81 Plantation Street, Worcester, MA 01604
Worcester Health Center, 25 Oriol Drive, Worcester, MA 01605
Worcester Mspcc Family Counseling Center, 335 Chandler Street, Worcester, MA 01602
Worcester Recovery Center And Hospital, 309 Belmont Street, Worcester, MA 01604
Worcester Rehabilitation & Health Care Center, 119 Providence Street, Worcester, MA 01604
Worcester Surgical Center, 300 Grove Street, Worcester, MA 01605
Worcester Surgical Center, Inc, 300 Grove Street, Worcester, MA 01605
WORCESTER, MA FUNERAL HOMES
---
Alfred Roy & Sons Funeral Home, 12 Hammond St, Worcester, MA 01610
Athy Memorial Home, 111 Lancaster St, Worcester, MA 01609
Bishop Funeral Home, 71 Pleasant St #3203, Worcester, MA 01609
Callahan Fay Caswell Funeral Home, 61 Myrtle St, Worcester, MA 01608
Comfort Cremation Inc., 1027 Main St, Worcester, MA 01603
Dirsa Morin Funeral Home, 298 Grafton St, Worcester, MA 01604
Fazio Funeral Home, 9 Branch St, Worcester, MA 01604
Graham Putnam Mahoney Funeral Parlors, 838 Main St, Worcester, MA 01610
Henry-Dirsa Funeral Home, 33 Ward St, Worcester, MA 01610
Kelly Funeral Home, 154 Lincoln St, Worcester, MA 01605
Lindquist Lundin Funeral Home, 36 Butler St, Worcester, MA 01607
Mercadante Funeral Home & Chapel, 370 Plantation St, Worcester, MA 01605
Nordgren Memorial Chapel, 300 Lincoln St, Worcester, MA 01605
O'Connor Brothers Funeral Home, 592 Park Ave, Worcester, MA 01603
Rice Funeral Home, 300 Park Ave, Worcester, MA 01609
PLACES OF WORSHIP IN WORCESTER, MA
---
Aldersgate United Methodist Church, 1048 Main St Worcester MA
Belmont Street Baptist Church, 25 Belmont St Worcester MA
Converge Worldwide (Baptist General Conference)
Bethlehem Covenant Church, 46 Greenwood St Worcester MA
Blessed Sacrament, 551 Pleasant St Worcester MA
Burncoat Baptist Church, 475 Burncoat St Worcester MA
Cathedral of St Paul, 38 High St Worcester MA
Christ Tabernacle Apostolic Church, 1189 Main St Worcester MA
Christ The King Parish, 1052 Pleasant St Worcester MA
Church Of Christ, 89 Beaverbrook Pkwy Worcester MA
Concordia Lutheran Church, 86 Murray Ave Worcester MA
Covenant United Methodist Church, 24 Hamilton St Worcester MA
Diocese of Worcester, 49 Elm St Worcester MA
Emanuel Lutheran Church, 200 Greenwood St Worcester MA
Emmanuel Baptist Church, 717 Main St Worcester MA
Epworth United Methodist Church. 64 Salisbury St Worcester MA
First Baptist Church, 111 Park Ave Worcester MA
First Congregational Church, 1070 Pleasant St Worcester MA
First Haitian Baptist Church, 397 Blue Hill Ave Dorchester MA
First Presbyterian Church, 125 Holden St Worcester MA
Greendale Peoples Church, 25 Francis St Worcester MA
Holy Trinity Armenian Apostolic Church, 635 Grove St Worcester MA
House Of Prayer-Auburn, 4 Buron Ter Auburn MA
Iglesia Bautista Casa De Oracion, 21 Canterbury St Worcester MA
Immaculate Conception Parish, 353 Grove St # 1 Worcester MA
John Street Baptist Church, 43 John St Worcester MA
Living Word Church of Worcester, 30 Tyler Prentice Rd Worcester MA
Mount Olive Pentecostal Church, 60 Highland St Worcester MA
Mt Sinai Church Of God In Christ, 63 Wellington St Worcester MA
New England Ghanaian Church, 67 Vernon St Worcester MA
Our Lady of Czestochowa Parish Polish, 34 Ward St Worcester MA
Our Lady of Loreto Parish Italian, 33 Massasoit Rd Worcester MA
Our Lady of Mercy Parish, 53 E Central St Worcester MA
Our Lady of Perpetual Help Melkite Greek Catholic Parish, 256 Hamilton St. Worcester MA
Our Lady of the Rosary, 23 Fales St Worcester MA
Our Lady of the Rosary Church, 23 Fales St Worcester MA
Our Lady of Vilna, 153 Sterling St Worcester MA
Our Lady of Vilna Parish Lithuanian, 153 Sterling St Worcester MA
Pleasant Street Baptist Church, 6 Ashland St Worcester MA
Quinsigamond United Methodist Church, 9 Stebbins St Worcester MA
Russian Orthodox Church. 63 Laurel St Worcester MA
Sacred Heart Church. 600 Cambridge St Worcester MA
Salem Covenant Church, 215 E Mountain St Worcester MA
Second Church Of Christ. 255 Salisbury St Worcester MA
St Christopher Parish, 950 W Boylston St Worcester MA
St George Rectory, 40 Brattle St Worcester MA
St Joan of Arc Parish, 570 Lincoln St Worcester MA
St John's Parish, 44 Temple St Worcester MA
St John's Rectory, 44 Temple St Worcester MA
St Luke's Episcopal Church, 921 Pleasant St Worcester MA
St Matthews Parish, 695 Southbridge St Worcester MA
St Paul Cathedral, 38 High St Worcester MA
St Peter's Parish, 929 Main St Worcester MA
St Peters Parish, 929 Main St Worcester MA
St Spyridon Cathedral, 102 Russell St Worcester MA
St Stephen Parish, 16 Hamilton St Worcester MA
Trinity Lutheran Church, 73 Lancaster St Worcester MA
True Holiness Church, 169 Chandler St Worcester MA
United Congregational Church, 6 Institute Rd Worcester MA
Worcester Baptist Church, 15 Ethan Allen St Worcester MA
Worcester Church Of The Living God, 70 James St # 150 Worcester MA
Worcester Hadwen Park Congregational Ucc, 6 Clover St Worcester MA
Worcester Lake View Congregational Ucc, 115 Coburn Ave Worcester MA
Worcester MA Hispanic, 146 Burncoat St Worcester MA
Worcester Second Bapt Ch, 14 Hammond St Worcester MA
Zion Lutheran Church, 41 Whitmarsh Ave Worcester MA
Ministerios Camino de Accion/Course of Action Ministries, 32 Greenwood St Worcester Ma 01607 MA
Adams Square Baptist Church, 266 Lincoln st Worcester MA
Cornerstone Bible Baptist Church , 889 Southbridge St Auburn-Worcester County MA
New song , 553 Cambridge Street Worcester MA
United Christian Family Ministries ,1110 Grafton Street Worcester MA
Unity of Central Massachusetts, 21 Cedar Street Worcester MA
Assumption of the Virgin Mary Church, 535 Salisbury St Worcester MA
Christ Baptist Church, 24 Granby Rd Worcester MA
Green Pastures, 61 Harvard St # 2 Worcester MA
Holy Family, 35 Hamilton St Worcester MA
Journey Community Church, 1 Skyline Dr Worcester MA
Liberty, 70 James St # 146-148 Worcester MA
Notre Dame Des Canadiens Parish, 35 Hamilton St Worcester MA
Our Lady of The Angels Parish, 1222 Main St Worcester MA
Pleasant Street SDA Church, 370 Pleasant St Worcester MA
Saint Matthew's Church, 695 Southbridge St Worcester MA
Saint Michael's on the Heights, 340 Burncoat St Worcester MA
Second Baptist Church, 14 Hammond St Worcester MA
Aldersgate United Methodist Church, 1048 Main St Worcester MA
All Saints Episcopal Church, 10 Irving St Worcester MA
Belmont Street Baptist Church, 25 Belmont St Worcester MA
Converge Worldwide (Baptist General Conference)
Bethlehem Covenant Church, 46 Greenwood St Worcester MA
Blessed Sacrament, 551 Pleasant St Worcester MA
Burncoat Baptist Church, 475 Burncoat St Worcester MA
Cathedral of St Paul, 38 High St Worcester MA
Christ Tabernacle Apostolic Church, 1189 Main St Worcester MA
Christ The King Parish, 1052 Pleasant St Worcester MA
Church Of Christ, 89 Beaverbrook Pkwy Worcester MA
Concordia Lutheran Church, 86 Murray Ave Worcester MA
Covenant United Methodist Church, 24 Hamilton St Worcester MA
Diocese of Worcester, 49 Elm St Worcester MA
Emanuel Lutheran Church, 200 Greenwood St Worcester MA
Emmanuel Baptist Church, 717 Main St Worcester MA
Epworth United Methodist Church. 64 Salisbury St Worcester MA
First Baptist Church, 111 Park Ave Worcester MA
First Congregational Church, 1070 Pleasant St Worcester MA
First Haitian Baptist Church, 397 Blue Hill Ave Dorchester MA
First Presbyterian Church, 125 Holden St Worcester MA
Greendale Peoples Church, 25 Francis St Worcester MA
Holy Trinity Armenian Apostolic Church, 635 Grove St Worcester MA
House Of Prayer-Auburn, 4 Buron Ter Auburn MA
Iglesia Bautista Casa De Oracion, 21 Canterbury St Worcester MA
Immaculate Conception Parish, 353 Grove St # 1 Worcester MA
John Street Baptist Church, 43 John St Worcester MA
Living Word Church of Worcester, 30 Tyler Prentice Rd Worcester MA
Mount Olive Pentecostal Church, 60 Highland St Worcester MA
Mt Sinai Church Of God In Christ, 63 Wellington St Worcester MA
New England Ghanaian Church, 67 Vernon St Worcester MA
Our Lady of Czestochowa Parish Polish, 34 Ward St Worcester MA
Our Lady of Loreto Parish Italian, 33 Massasoit Rd Worcester MA
Our Lady of Mercy Parish, 53 E Central St Worcester MA
Our Lady of Perpetual Help Melkite Greek Catholic Parish, 256 Hamilton St. Worcester MA
Our Lady of the Rosary, 23 Fales St Worcester MA
Our Lady of the Rosary Church, 23 Fales St Worcester MA
Our Lady of Vilna, 153 Sterling St Worcester MA
Our Lady of Vilna Parish Lithuanian, 153 Sterling St Worcester MA
Pleasant Street Baptist Church, 6 Ashland St Worcester MA
Quinsigamond United Methodist Church, 9 Stebbins St Worcester MA
Russian Orthodox Church. 63 Laurel St Worcester MA
Sacred Heart Church. 600 Cambridge St Worcester MA
Salem Covenant Church, 215 E Mountain St Worcester MA
Second Church Of Christ. 255 Salisbury St Worcester MA
St Christopher Parish, 950 W Boylston St Worcester MA
St George Rectory, 40 Brattle St Worcester MA
St Joan of Arc Parish, 570 Lincoln St Worcester MA
St John's Parish, 44 Temple St Worcester MA
St John's Rectory, 44 Temple St Worcester MA
St Luke's Episcopal Church, 921 Pleasant St Worcester MA
St Matthews Parish, 695 Southbridge St Worcester MA
St Paul Cathedral, 38 High St Worcester MA
St Peter's Parish, 929 Main St Worcester MA
St Peters Parish, 929 Main St Worcester MA
St Spyridon Cathedral, 102 Russell St Worcester MA
St Stephen Parish, 16 Hamilton St Worcester MA
Trinity Lutheran Church, 73 Lancaster St Worcester MA
True Holiness Church, 169 Chandler St Worcester MA
United Congregational Church, 6 Institute Rd Worcester MA
Worcester Baptist Church, 15 Ethan Allen St Worcester MA
Worcester Church Of The Living God, 70 James St # 150 Worcester MA
Worcester Hadwen Park Congregational Ucc, 6 Clover St Worcester MA
Worcester Lake View Congregational Ucc, 115 Coburn Ave Worcester MA
Worcester MA Hispanic, 146 Burncoat St Worcester MA
Worcester Second Bapt Ch, 14 Hammond St Worcester MA
Zion Lutheran Church, 41 Whitmarsh Ave Worcester MA
Ministerios Camino de Accion/Course of Action Ministries, 32 Greenwood St Worcester Ma 01607 MA
Adams Square Baptist Church, 266 Lincoln st Worcester MA
Cornerstone Bible Baptist Church , 889 Southbridge St Auburn-Worcester County MA
New song , 553 Cambridge Street Worcester MA
United Christian Family Ministries ,1110 Grafton Street Worcester MA
Unity of Central Massachusetts, 21 Cedar Street Worcester MA
Assumption of the Virgin Mary Church, 535 Salisbury St Worcester MA
Christ Baptist Church, 24 Granby Rd Worcester MA
Green Pastures, 61 Harvard St # 2 Worcester MA
Holy Family, 35 Hamilton St Worcester MA
Journey Community Church, 1 Skyline Dr Worcester MA
Liberty, 70 James St # 146-148 Worcester MA
Notre Dame Des Canadiens Parish, 35 Hamilton St Worcester MA
Our Lady of The Angels Parish, 1222 Main St Worcester MA
Pleasant Street SDA Church, 370 Pleasant St Worcester MA
Saint Matthew's Church, 695 Southbridge St Worcester MA
Saint Michael's on the Heights, 340 Burncoat St Worcester MA
Second Baptist Church, 14 Hammond St Worcester MA
St George Cathedral, 30 Anna St Worcester MA
St George Parish, 40 Brattle St Worcester MA
St Peter-marian Central Cthlc, 781 Grove St Worcester MA
Worcester Armenian Church Of The Martyrs Ucc. 22 Ormond St Worcester MA
Worcester Ecclesia, 218 Greenwood St Worcester MA
Worcester Foursquare Church, 166 Holden St Worcester MA
Worcester Portuguese SDA Church, 2 Airport Dr Worcester MA
Worcester South Foursquare Church, 371 Pleasant St Worcester MA
Assembleia de Deus Ministerio Do Belem. 600 Main St Apt 1502 Worcester MA
Belmont A.M.E Zion Church, 55 Ilinois St. Worcester MA
Bless It Ministries, 243 Lincoln st Worcester MA
Camino De Accion, 15 Mechanic St Worcester MA
Church Of God Pentecostal, 829 Main St Worcester MA
Diocese Of The Armenian Church, 87 Salisbury St Worcester MA
Grace Baptist Church, 52 Harlem St Worcester MA
Healing America, 23 Wayside Rd Worcester MA
Holy Cross Alumni Sodality of Our Lady, 1 College St Worcester MA
Iglesia Pentecostal Unida, 1 Stanley Rd Worcester MA
New England Worship Center, 91 Canterbury St Worcester MA
New Hope Baptist Church, 1302 Halcyon Dr Worcester MA
Nuevo Amaneceer Spanish SDA Company, 617 Lincoln St Worcester MA
Our Lady of Lourdes - Worcester Massacusetts, 1290 Grafton St Worcester MA
Pentecostal Church Of Im, 870 Main St Worcester MA
Pentecostal Movement Church. 23 Coral St Worcester MA
Sacred Heart of Jesus, 596 Cambridge St Worcester MA
St Mark, 0 Freeland St Worcester MA
St Stephen, 357 Grafton St Worcester MA
Vietnamese Alliance Church, 1411 Main St Worcester MA
Worcester Central Spanish SDA Church, 886 Main St Worcester MA
Worcester East Foursquare Church, 12 Rankin St Worcester MA
Worcester Korean United Methodist Church, 114 Main St Worcester MA
Worcester Park Congregational Ucc, 126 Elm St Worcester MA
St. Bernards Church of Our Lady of Providence Parish, 236 Lincoln St Worcester MA
Vietnamese Christian Center of the Assemblies of God, 73 Canterbury Street Worcester MA